This course is for you who already have a basic knowledge of the fundamentals in traditional bachata and want to continue learning more techniques and steps, as well as getting a deeper understanding of the music in order to improve your dancing level.
We will start from where we left off in the previous course and get even more into the real traditional bachata, this time also adding our sabor a pueblo as we finally introduce Bonao style. In this course we will also talk about some of the secrets on how to become the master of social dance and ways you can use the three different energies or tempos in the bachata.
If you feel unsure whether the Bachata Intermediate Course is the right level for you, take a look at the Bachata Beginners Course to get a hint of what we expect you to know, in order to really appreciate and understand the contents of the intermediate level.
VOCABULARY AND STRUCTURE
We have created our own pedagogy, vocabulary and techniques, all based on how bachata is danced in the Dominican Republic and in cooperation with the best and most respected local Dominican dancers. The steps and figures we will teach in the Bachata Intermediate level:
La Pasarela
El Trompo
El Paseo
Vuelta Lima
Bonao Basics
Basico Cruzado
Basico el Puente

El Swapper

El Sacaito
Bonao Cha cha
Bachata Intermediate Course with Junior & Carolina contains 7 lessons with different themes - everything from leading and following techniques to body movement, social dance and musical interpretation.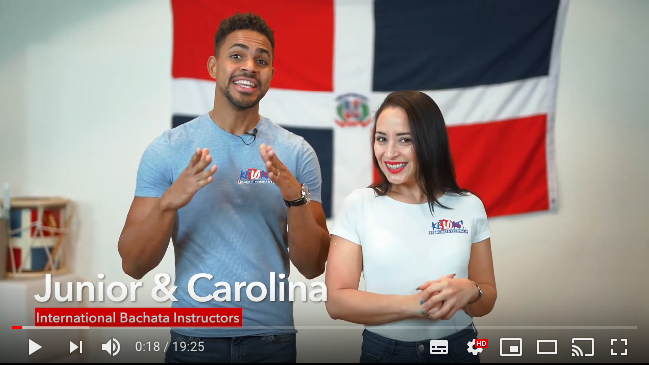 We are international artists, instructors, animators and event organizers who want to teach you all we know about the Dominican culture and dance styles starting from the very basics until you have reached an advanced level.
Sign up for our classes and start dancing from your home today!