This course is for you who already have an intermediate or higher level in bachata with a solid knowledge about the fundamental techniques and movements. It's for you who want a challenge to improve your social dancing and better understand the music and how to interpret it. 
In this course we will bring you a lot of fun and challenging combinations and steps with our sabor a pueblo. We will focus on the Bonao style as Bonao is one of the villages in the Dominican Republic where bachata is more than music and dance. In Bonao it's a lifestyle and a part of daily life, which is why most of the best dancers in Dominican Republic are from here. We will also explain how to use and dance on different timings, how to use your whole body when you're dancing as well as giving you tips on how to find your own unique style.
If you feel unsure whether the Bachata Advanced Course is the right level for you, take a look at the Bachata Intermediate Course to get a hint of what we expect you to know, in order to really appreciate and understand the contents of the advanced level.
VOCABULARY AND STRUCTURE
We have created our own pedagogy, vocabulary and techniques, all based on how bachata is danced in the Dominican Republic and in cooperation with the best and most respected local Dominican dancers. Some steps and figures we will teach in the Bachata Advanced level:
El Swapper combinado 
Sacaito doble  
Repique en pareja 
La vuelta Magia 
La Corriente 
Chacha diagonal  
Vuelta Alcancia 
Bachata Advanced Course with Junior & Carolina contains 7 lessons divided into 14 videos with different themes - from new challenging combinations and steps to body movement and musical interpretation.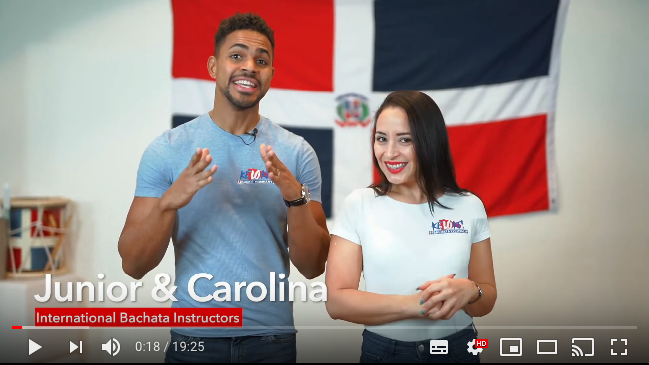 We are international artists, instructors, animators and event organizers who want to teach you all we know about bachata starting from the very basics until you have reached an advanced level.
Sign up for our classes and start dancing from you home today!